Escape! Read Our Books that Inspire, Captivate and Entertain!


. . . Love Pour Over Me. FEEL the love in this timeless story! Read about it Today.



Ask your bookseller and librarian to carry Denise's new novel, Love Pour Over Me!
Read excerpts from Love Pour Over Me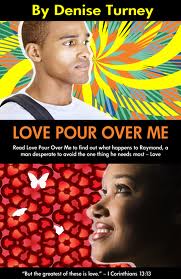 Click --> to Buy Now
A supporter of poets and poetry, mystery novels, womens art and book publishers that publish books by African Americans, Robin crossed her legs. Taking her gaze to the ceiling, Robin rolled her eyes. While Leslie cast out threats against the man who stole her necklace, she reminded herself why she came to New York. Despite the fact that she couldn't afford to live on her own, despite the fact that she was still attending New York University as an undergraduate majoring in English, she grit her teeth and promised herself that she would be a success. 'One day I won't have to sit up under you and your mean, nasty ways. I won't have to run home to my daddy. I won't be here when death threats turn to death, when the stalker shows up at the front door. I'm gonna make it as a writer. I'm gonna make it big. I'm going to . . .'" -- Love does have many faces -- Read from Love Has Many Faces! Just Click Here!
NOTE: Our Books Come With FREE Shipping and Handling.
It's EASY to Purchase Love Pour Over Me (NEW BOOK), Spiral, Long Walk Up, Portia and Love Has Many Faces!

You are our guests. We want to get to know you. Thank you for supporting Love Pour Over Me (New Book!), Portia, Long Walk Up, Rosetta's Great Hope and Spiral



Writers are talented artists who create stories, whether fiction or nonfiction that residents and citizens learn from. Material that writers write is used in school classrooms all over the country and world. That alone makes the work that writers do seem even more important. Writers also write books, short stories, poems and others works that inform and entertain people. The work that writers do also inspires me, even showing youngsters that they can be writers when they grow up or start writing while they are young. After all, people who want to write and grow up to be writers can start writing at any age. Some writers become bestselling writers, other writers gain a following with local readers.