Give Yourself the Gift of Entertainment
LOVE POUR OVER ME'S PRELUDE:
It's the 1980s. Pork chops smothered in sweet onions are frying in the kitchen. PacMac is the rave. Outside sirens blare their way down the street. Not much has changed in Dayton, Ohio. Miles away, in Philadelphia, the University of Pemberton awaits the arrival of a high school track and field phenom, a local celebrity who is eager to escape home. But trouble has a way of following a man, especially one who's on the run.


Relax and stay awhile . . . Come closer . . . .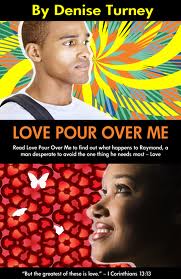 Readers are falling in love with Love Pour Over Me

Love Pour Over Me is a book that readers can relate to. It examines the human condition and splendidly shows how one can triumph over adversity. - Adrianne Daniels, Ohio School Teacher

With Love Pour Over Me, Denise Turney has done it again! Turney is a very talented writer who knows how to bring a story to life. - Caroline Rogers, C&B Books


This read was very compelling. I have to admit from the first chapter I became emotional . . . tears in my eyes from sadness and anger. This story centered around the main character, Raymond, who was abandoned by his mother when he was two and grew up in a home with his mentally and physically abusive father. Just when things were looking up for this young man things started to go wrong. He would fall in love. However, as if he didn't already have enough to deal with, more confusion entered his world. I strongly suggest this read to see what this young man had to go through. You will find out that learning and acceptance and forgiveness is the message within this story, something many of us can relate to, but you'll also see the struggle Raymond went through to get there. . . . It ended beautifully. -- Nita Bee's Buzzin' Books


A complex work on many levels, Denise Turney has written a psychological, spiritual, and emotional novel replete with fully fleshed out characters that vie for our attention at every turn. Love Pour Over Me's main character, Raymond, is at once an enigma and an open book. Dealing with troubling issues, most salient of which, are physical and emotional abandonment, Raymond lives a painful childhood with his abusive and alcoholic father. The young, talented athlete must fend for himself and resist as well the criminal elements who shadow and threaten to blithe his world. It is not difficult to see why, as a young adult, he is described as "emotionally distant," and "aloof." With Brenda, Raymond might find enduring love if only he is able to open up enough to accept it. Caught between his devotion to Brenda and the church, the young man is conflicted, and takes refuge in running away. However, he cannot manage to forget Brenda's love. Our resistance to love and forgiveness, writes the analytical author, has created a world of religion. And forgiveness and love, proffers Ms Turney, are what will help bridge the gap of error. Denise Turney is very skilful in her depiction of dialogue, and in the presentation of a world that many will find easy to recognize. -- Nicole Titus, Author of Akin to No One



More comments on Denise Turney's writings:

There is a vibrant voice in the literary world and her name is Denise Turney. She has done it again with Love Has Many Faces. Once you pick it up it will be hard to put it down. I commend her on another well done novel! Move over Terry McMillan, Connie Briscoe and Dianne McKinney-Whetstone for Denise Turney is hot on your trail. - Vanesssa Woodward, Journeys End Book Club President

I wanted to spend more time with Portia. Ms. Turney, your work has added a new work to my read-and-and-savor list. - Under the Cover Book Reviews

The more I read Love Has Many Faces the more I want to keep reading! This book gets better while you continue to read it! - Sonny Smith, Urban Entertainment Report (EUR)

Your writing is very engaging. -Ruby Johnson

Long Walk Up breathes life into the resiliency of the African spirit. Through Turney, Mulukan easily leaves the pages and enters our hearts. You too will be encouraged to take the Long Walk Up. - Yaba Blay, Temple University Department of African American Studies





Love Pour Over Me Synopsis: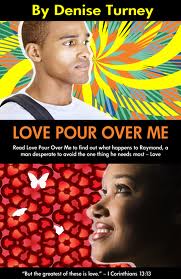 A story about restored love amid heart breaking contrasts, Love Pour Over Me recounts Raymond Clarke's tumultuous, yet triumphant life experiences. The cradle of Raymond's life is steeped in unpredictability. His father struggles with alcoholism. His mother abandoned him when he was two years old. Raymond's track and field successes make him one of America's top middle-distance runners. His athletic exploits also earn him a scholarship to a prestigious university, where Raymond meets a motley sort of friends, some famous, some from other countries, each with an intriguing story of his own. But, just when Raymond thought he was free from his alcoholic father, he finds himself pulled into an unresolved murder. His efforts to go unscathed by the pull and tug of intimacy also threaten to keep him from the one woman he's ever truly loved, the woman he was born to love.

ABOUT Denise Turney: Denise Turney is a two-two Navy Achievement Medal winner. Her works have appeared in media outlets such as Parade, Essence, Ebony, Blake Radio, Who's Who of America, Sisters In Style, Emerge, Madame Noire, The Network Journal, Halogen TV, America Online Patch, Today's Black Woman, Obsidian II, The Trenton Times, MultiView, New Citizens Press, Pittsburgh Quarterly, KaNuPePa, The Bucks County Courier Times, The Trenton State College Literary Review and We The People. In addition to Love Pour Over Me, Turney has authored the books Portia, Love Has Many Faces, Spiral, Long Walk Up and Rosetta's Great Hope. Turney is also the founder of The Book Lover's Haven, editor of Write Money Incorporated and the talk show host of Off The Shelf radio.








**Purchase your e-book copy of Love Pour Over Me now by clicking