[Putting YOU in charge by giving YOU more choices!]
Read Love Pour Over Me Give Yourself the Gift of Entertainment
Would you love your father if he had been abusive to you when you were a child? Could you forgive him?



LOVE POUR OVER ME'S PRELUDE:
It's the 1980s. Pork chops smothered in sweet onions are frying in the kitchen. PacMac is the rave. Outside sirens blare their way down the street. Not much has changed in Dayton, Ohio. Miles away, in Philadelphia, the University of Pemberton awaits the arrival of a high school track and field phenom, a local celebrity who is eager to escape home. But trouble has a way of following a man, especially one who's on the run.


Relax and stay awhile . . . Come closer . . . .


Chapter One

It was Friday afternoon, June 15, 1984. Raymond Clarke lay across his bed. An empty bowl of popcorn was on the floor. Snacking did little to ease his excitement. In less than three hours his year round efforts to prove himself deserving of unwavering acclaim would be validated in front of hundreds of his classmates. Tonight was his high school graduation, the day he had dreamed about for weeks. He knew his grades were high enough to earn him academic honors. Even more than his grades were his athletic achievements. He hadn't been beaten in a track race in three years; he won the state half mile and mile runs for the last six years, since he was in middle school. People would cheer wildly for him tonight.

The television was turned up loud. "Carl Lewis threatens to break Bob Beamon's historic long jump record at the Olympic Trials in Los Angeles this weekend," an ESPN sportscaster announced. "Beamon's record has stood for sixteen years. Lewis . . . "

Raymond got so caught up in the mention of the upcoming Olympic Games that he didn't hear the front door open.

"Ray," his father Malcolm shouted as soon as he entered the house.

"What?" Raymond leaped off his bed and hurried into the living room. "Dad?"

"What? Boy, if you don't get your junk--"

Raymond watched his father wave his hand over the sofa, the place where he'd thrown his sports bag as soon as he got home from graduation practice at school.

"Get this sports crap up," Malcolm growled.

Silence filled the house.

Raymond grabbed his sports bag, carried it into his bedroom and tossed it across his bed.

His father exited the living room and entered the kitchen. Like a dark shadow, frustrations from spending ten hours working at a drab automobile plant where he drilled leather seats into one Ford Mustang after another while his line supervisor stood at his shoulder and barked, "Focus, Malcolm. Get your production up," followed him there. It was in the furrow of his brow and in the pinch of his lip. "Ray."

Raymond cursed beneath his breath before he left his bedroom and hurried into the living room. Seconds later he stood in the kitchen's open doorway.

He watched his father toss an envelope on the table. "Letter from Baker came in the mail. Something about you getting some awards when-" He reached to the center of the kitchen table for a bottle of Steel Fervor. He'd stopped hiding the alcohol when Raymond turned five. The alcohol looked like liquid gold. Felt that way to Malcolm too. "-you graduate tonight."

Malcolm took a long swig of the whiskey and squinted against the burn. He tried to laugh but only coughed up spleen. "You're probably the only kid in the whole school who got a letter like this. Everybody up at Baker knows nobody cares about you. Letter said they thought I'd want to let all your relatives know you're getting some awards so they'd come out and support you."

Again Malcolm worked at laughter, but instead coughed a dry, scratchy cough that went long and raw through his throat. "We both know ain't nobody going to be there but me and your sorry ass. Don't mean nothing anyhow. They're just giving these diplomas and awards away now days." On his way out of the kitchen, bottle in hand, he shoved the letter against Raymond's chest.

Raymond listened to his father's footsteps go heavy up the back stairs while he stood alone in the kitchen. When the footsteps became a whisper, he looked down at the letter. It was printed on good stationery, the kind Baker High School only used for special occasions. Didn't matter though. Raymond took the letter and ripped it once, twice, three times --- over and over again --- until it was only shreds of paper, then he walked to the tall kitchen wastebasket next to the gas stove and dropped the bits inside.

"Ray."

He froze. From the sound of his father's voice, he knew he was at the top of the stairs.

"Give me that letter, so I'll remember to go to your graduation tonight."

Raymond twisted his mouth at the foulness of the request, the absolute absurdity of it. He didn't answer. Instead he turned and walked back inside his bedroom. He grabbed his house keys and headed outside. At the edge of the walkway, he heard his father shout, "Ray."

Raymond didn't turn around. He walked down the tree lined sidewalk the way he'd learned to walk since Kindergarten -- with his head down. He stepped over raised cracks in the worn sidewalk, turned away from boarded windows of two empty dilapidated buildings and told himself the neighborhood was just like his father -- old, useless, unforgiving and hard.

A second floor window back at the house went up. Malcolm stuck his head all the way out the window. "Get your ass back here," he hollered down the street. Raymond sprang to his toes and started to run. His muscular arms and legs went back and forth through the cooling air like propellers, like they were devices he used to try to take off, leave the places in his life he wished had never been. It was what he was good at. All his running had earned him high honors in track and field. He was Ohio's top miler. He'd made Sports Illustrated four times since middle school.

"Ray."

"Yo, man, you better go back," Joey chuckled as Raymond slowed to a stop. Joey, a troubled eighteen-year-old neighbor who dropped out of school in the tenth grade, leaned across a Pontiac Sunbird waxing its hood. "If you don't, your old man's gonna beat your ass good."

"Aw, Ray's cool," Stanley, an equally troubled twenty-one-year-old who pissed on school and failed to get a diploma, a man who couldn't read beyond the third grade level, said. He stood next to Joey. His hands were shoved to the bottoms of his pants pockets. "And we know the Brother can run. Damn. We all can run," Stanley laughed.

"Ray, remember the night we ran away from that Texaco station, our wallets all fat?" Joey laughed. He talked so loudly, Raymond worried he'd be overheard. "Thought we agreed to let that go," Raymond said. He looked hard at Joey then he looked hard at Stanley and the nine-month old deal was resealed, another secret for Raymond to keep.

One glance back at his father's house and Raymond started running again. He ran passed Gruder's an old upholstery company and Truder Albright, a small, worn convenience store, all the way to the Trotwood Recreation Center six miles farther into the city.

**Purchase your copy of Love Pour Over Me now by Clicking Here***

********************
(Further into Chapter One)

With the phone dead and Coach Carter's voice gone, Raymond returned to the living room and sat on the sofa in silence. The front door was open. Through the screen door, warm summer air carried the scent of fried pork chops, chicken and hamburger from neighboring houses into the living room.

Because Malcolm's kitchen table was bare and the refrigerator held only beer, wine coolers, a bowl of two week old broccoli, a pint of cottage cheese and a celery stalk, Raymond served himself an evening meal through his nose. As if he could get full on the smell of food, he tilted his head back and inhaled in long, slow breaths.

In the living room, the second hand on the battery operated Ingraham wall clock ticked and slid forward, ticked and slid forward. Soon Raymond had the phone in his hand again. "Yo, Paul," he said to his high school track teammate, the one guy who gave him good athletic competition, someone he considered a real good friend. "When are you leaving for the convention center?"

"Five minutes. Man, you know we have to be there an hour before the ceremony starts. I'm running late as it is-" He paused. "You need a ride?"

"Can you swing by and get me on your way?"

"My mom and dad are driving."

"I mean, Man, please. Help me out." He sighed. "Even though I got my license a year ago, you know my dad's not gonna let me drive his Camaro."

"Your pops ain't coming?"

"Yo, Paul, Homey," Raymond begged.

"A'right. A'right."



The Dayton Convention Center was packed. Four hundred students – their purple and white caps and gowns making them the focal point of attention -- filled the front of the main auditorium. A mass of parents, grandparents, aunts, uncles and cousins sat in the raised seats at the back of the room.

The program started with a slew of speeches, enough to make the students wriggle in their seats. Over time, the evening began to take on an unwanted hue. A stale fatigue came into the air, started to make the graduation ceremony feel boring.

Then a good thing happened. Principal Bernard Jones approached the microphone and everyone in the auditorium sat up.

"And now," Principal Jones said, "it's time to hand out the diplomas."

Cheers went up and drowned Principal Jones' voice. Like confetti that had been tossed toward the ceiling, it was a long time before the cheers came down.

It was eight o'clock. Raymond told himself not to but he turned partway and glanced over his shoulder. It was as if he'd suddenly been plagued with dementia, because he forgot the years of abuse heaped upon him with Malcolm's calloused hands. He wanted Malcolm to walk through the convention center doors sober and real proud like. He wanted Malcolm to be glad to call him his son.

"To the students, as I call out your name, please stand and make your way onto the stage." Principal Jones flipped through a stack of stapled papers then he pushed his mouth close to the microphone and said slowly, "Sharon Appleseed."

A loud round of applause, whistling and "way to gos" pierced the air. It went on like that for more than an hour, until all but two students had received a diploma -Raymond and Janice Thompson, a bright sixteen year old who sat in a wheelchair due to spina bifida.

Principal Jones sang Janice's praises. Hers had been a stellar academic career right from the start. "She's earned her way onto the Honor Roll every year since the Seventh Grade. She was voted to Girls State by our finest instructors. She has won three presidential academic citations. And," Principal Jones laughed, "I'm sure her parents appreciate this most. She has earned a full scholarship to Spelman College in Atlanta, Georgia." Principal Jones' hand went out. "Ladies and gentlemen," he beamed, "Please stand and congratulate the Class of 1984's Salutatorian, Janice Thompson."

Janice pushed the wheelchair toward the stage and everyone stood and applauded wildly. Amid the swell of noise and the sea of people, Raymond looked over his shoulder and searched every face for Malcolm. His gaze darted in a crazed fashion.

Then he felt a tap on his shoulder. It was his friend, Paul. They sat next to each other. "Yo, Man, is your pops coming?"

Raymond turned away from Paul, faced the stage and stood tall, head up, shoulders back.

When Paul tapped him again, he jerked his shoulders hard and shrugged him off.

The auditorium grew quiet.

"And now, it's time for us to bestow the top honor." Principal Jones smiled before he said, "This young man has earned high commendations academically and athletically."

In short intervals, Paul, several members of the track team and Raymond's high school track coach turned and looked to the back of the auditorium toward the entrance doors. They prayed for Malcolm to show.

"Damn," Paul muttered when he turned around and faced the stage for the eighth time. He bumped shoulders with the guy who stood next to him. "That asshole ain't coming." He lowered his head and his voice. "Ray's pops ain't coming."

"This young man has earned All-City, All-County, All-State and top national honors in cross-country and track and field. In fact, twice he's been listed as the top high school miler in the country by Sports Illustrated and Track and Field News. He has earned four Presidential academic citations. He's been on the Honor Roll since the Seventh Grade." Principal Jones scanned the auditorium for Malcolm. When he didn't see him, he spoke slower and started to make things up in the hopes that time would become Raymond's friend.



"I remember when he first came to Baker. He was a scared young man, but not anymore." He pursed his lips and gave Raymond a nod. "He's ready to take advantage of the full scholarship his achievements have gained him." Principal Jones glanced at the doors.

A few students and several parents squirmed in their seats. Some people glanced at their watches as if to say "Come on."

"He has maintained a 4.0 grade point average since the ninth grade. He hasn't missed a day of school since the third grade." The doors demanded his attention again, but no one came through them.

"Ladies and Gentlemen, please congratulate Baker High School's Class of 1984 Valedictorian, Raymond Clarke."

Paul clapped until his hands stung. A few students stood in their seats and hollered out, "Go, Ray!" Before long a chant went up. All the students pumped their fists in the air and shouted, "Ray-mond! Ray-mond!"

Raymond's heart beat wildly in his chest. He clamped his teeth down against his bottom lip and jailed the rising emotion. He extended his hand when he neared Principal Jones' side.

"Well done," Principal Jones told him as he handed him his diploma. He patted Raymond's back. "You did a fine job, Son." He shook his head, "A fine job."



The chain lock was on the front door when Raymond got home that night. He jiggled the chain and tried to get it to slide open. When that didn't work he walked to the back of the house and tried to open the rear door, the one leading to the backyard. He cursed as he realized a chain lock was on the back door as well. Then he looked for an opening. He was in luck. The kitchen window was ajar just enough to allow him entry. He grunted and pushed up. The screen didn't even bang when it landed in the sink. He crawled through the window like a thief.

When he reached the stairs, he saw a flicker of light coming from the second floor. "Dad," he called out softly, then louder as he made his way up the stairs. "Dad."

A newly pressed blue striped suit coat hung across the chair in the corner of his father's bedroom. The television was turned down so low it sounded like it was humming.

"Dad?"

The bed was empty, covers bunched together near the foot. The shade to the room's one lamp was tilted as if someone had punched it.

"Dad?"

Raymond walked across the hall. He started to scream. "Dad?" He ran back down the stairs. "Dad?" he screamed as he made his way through the house.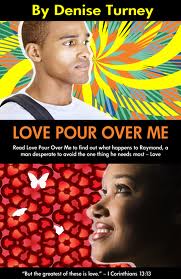 **Purchase your copy of Love Pour Over Me now by Clicking Here***

You really want to order Love Pour over Me

Take Love Pour Over Me Home Now
Back Home


Copyright 1998-2017 Chistell Publishing All rights reserved.

No portion of this women's books, excerpt, multicultural or african american books web site may
be reproduced in any form without the expressed, written permission of the african american books site owner.

This page of site was re-designed and developed by Unorthodoks Marketing -Design Division

Love Pour Over Me is a powerfully moving African American novel written by talented author Denise Turney, a romance novel set in Philadelphia, Pennsylvania. Love Pour Over Me book is a premiere book about african american love. The book explores forgiveness as Love Pour Over Me characters find themselves in situations that cause them to question the loyalty of their friends and their own insight and emotional intelligence. Track and field, particularly middle distance track and field races and alcoholic fathers, take center stage in this book about love. This African American novel's main character is Raymond Clarke, a world class track runner. His passion for the track and field sport is only surpassed by his love, commitment and passion for his girlfriend, a beautiful African American woman named Brenda he meets after he leaves his alcoholic father at home in Ohio and arrives at college campus in Philadelphia. Brenda helps open Raymond up to love. She is a beautiful African American woman who loves Raymond to the point where he starts to heal from abuses he endured by his father who drinks too much during his childhood. It is this African American couples love that finds Love Pour Over Me book characters and book plots soaring, touching and warming the hearts of readers, people who come from different parts of the world to enjoy an emotionally moving, memorable and timeless story about love. The story is further empowered by the friendships Raymond shares with three good college friends, male friendships that, although deeply tested, may very well stand endure. Its relationships, love relationships, that keep pushing Love Pour Over Me books forward.